Below is a list of resources that you can use if you get caught up in a natural disaster/emergency in Japan.
Emergency Phone Numbers

Call

110

 to report an

accident

 (including traffic accidents) or

crime

to the police.

Call

118

 to report an accident or crime at sea to the

Japan Coast Guard

.

Call

119

 to report a

fire

or to ask for an

ambulance

or

rescue

service.
---

Online Resources
These links can be useful to find others, prepare for disasters, and contact the right people in an emergency situation.
1) Google Person Finder for Japan
Link: https://www.google.org/personfinder/japan?lang
2) J-ANPI
Searches personal safety information registered in its database by name or phone number.
Link: https://anpi.jp/top?lang=en
3) Disaster Message Board Web 171 by NTT
Store and access messages when other communications lines are down.
Link: https://bit.ly/2KVlU76
4) Japan Meteorological Agency
Up-to-date weather-related information 
Link: https://www.jma.go.jp/jma/indexe.html
5) Getting a Disaster Victim Certificate
Link: https://bit.ly/2CpP37n
6) Legal Information for Foreign Nationals
Multi-lingual legal support
Link: https://www.houterasu.or.jp/en/
7) Magnitude vs Japanese Seismic Intensity (shindo) scale
Link: https://bit.ly/2Q94wve
8) 6 Things NOT to Do After an Earthquake in Japan
Link: https://bit.ly/2II2iPm
9) Disaster preparedness resources in English
Link: https://bit.ly/2MTknjB
10) Yurukeru App
App for earthquake early warnings.
Link: https://apple.co/293yZqg
11) Safety Tips
App for travelers developed by Japan Tourism Agency 
Link: https://apple.co/2wRWWgF
12) List of Embassies and Consulates in Japan
Link: https://www.mofa.go.jp/about/emb_cons/protocol/index.html
13) Preparing an Emergency Bag in Japan
Link: https://bit.ly/2oP4NqU
14) Multi-lingual Tokyo Fire Department Website
Link: http://www.tfd.metro.tokyo.jp/eng/
15) Fire & Disaster Management Agency Website (English)
Link: http://www.fdma.go.jp/en/
---
Radio / Phone Numbers

1) Radio: InterFM
Link: http://www.interfm.co.jp/
Tune into InterFM at 76.1 MHz after a major disaster, as they will broadcast important information in multiple languages.
2) Tokyo English Life Line (TELL)
Link: http://www.telljp.com/
Tel: 03-5774-0992 (9:00am-11:00pm, Daily)
Online Chat: Link here (10:30pm – 02:00am, Fri, Sat & Sun)
– Nonprofit offering free, confidential telephone counseling in English. Trained telephone counselors provide support on a wide range of issues. Kids, teens and adults are welcome to call, and TELL can connect you with English-language resources in Japan.
3) Japan Helpline
Link: http://www.jhelp.com/en/jhlp.html
Tel: 0570-000-911 (24hrs)
– Provides assistance services, from simple questions to emergencies.
---
Making an emergency call from a public phone
You can dial emergency numbers free-of-charge for help from public phones (yes, they still exist, and are potentially even more reliable than mobile phones during emergencies). Calls to ambulances and fire department are free. When making an emergency call from a public phone that has a kinkyu tsuho button (an emergency notification button) on the front of the unit, make sure to press it and then dial the required number.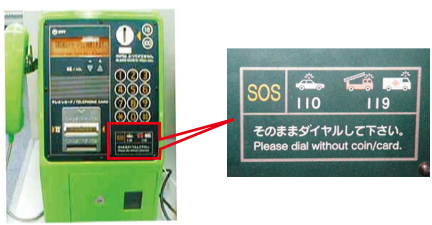 Police Box (Koban)
Most neighbourhoods have a koban (交番, police box) – a small building where police officers are stationed. They use this as a base for neighbourhood patrols, managing incidents, filing reports for lost items, and giving directions. If you have any problems, head straight to the Koban and they are generally very willing to help. If they can't speak your language, they may be able to access remote language support via phone.
Ambulance / Medical Services
Ambulances can be called free-of-charge in Japan. The national average response time (how long the ambulance takes to reach you) is 8.5 minutes, as of 2017.
Make an emergency call by calling

119

(the same number in case of fire) to ask for an ambulance in case of sudden illness or injury.
For medical emergency interpretation:
Tel:  0570-099-283 (Languages: English, Chinese, Korean, Thai, Spanish, French)
For information about multi-lingual medical institutions & general information about Japan's medical system:
Tel: 03-5285-8181 (Languages: English, Chinese, Korean, Thai, Spanish)
Tokyo Metropolitan Government also offers the HIMAWARI online database in English, Chinese and Korean – a guide to medical and pharmaceutical services in the capital.
Here are some useful medical emergency checklists that can be used to describe your symptoms to a doctor (Languages: English, Chinese, Korean, Portugues, Thai), and here is a point-sheet for describing your symptoms.
You can also have a look at Japan Healthcare Info, which provides services to the international community in Japan, and the JNTO's "Guide for when you are feeling ill".
---
*Remember that in the case of a major disaster, phone lines will most likely be disrupted, and emergency services will be overwhelmed. To mitigate any risks to you and your loved ones, ensure you have an emergency plan, an emergency bag, and have ideally taken some sort of medical first response training. See the "Things you need to do" section for more information on how you can be better prepared.